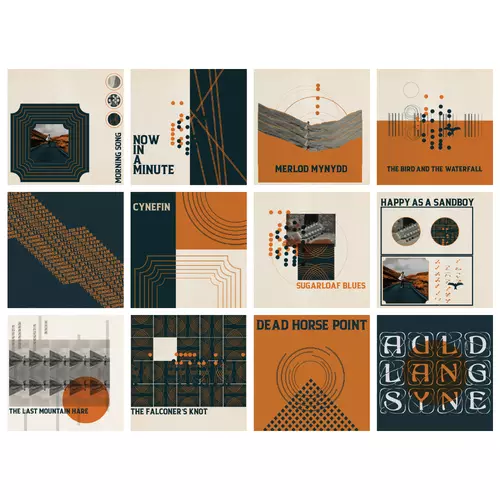 Fine Art Prints
| Format | Price | Buy |
| --- | --- | --- |
| The Summer the Sky Cried For Rain Print | £20.00 | |
| Morning Song Print | £20.00 | |
| Now in a Minute Print | £20.00 | |
| Merlod Mynydd Print | £20.00 | |
| The Bird and the Waterfall Print | £20.00 | |
| Cynefin Print | £20.00 | |
| Sugarloaf Blues Print | £20.00 | |
| Happy as a Sandboy Print | £20.00 | |
| The Last Mountain Hare Print | £20.00 | |
| The Falconer's Knot Print | £20.00 | |
| Dead Horse Point Print | £20.00 | |
| Auld Lang Syne Print | £20.00 | |
Description
Fine Art Prints
12 beautiful artwork pieces by Louise Mason of Sawn Off Design for each track on Toby Hay's LP New Music for the 12 String Guitar.

The artworks take their inspiration from Toby's "Red Kite" 12 String Guitar guitar, which was specifically commissioned by The state51 Conspiracy to write and record New Music for the 12 String Guitar. The "Red Kite", made by Roger Bucknall of Fylde Guitars, takes its name from the bird of prey native to Toby's local Rhayader. Celtic knot patterns and scenic influences can be seen throughout these designs.

Each design has been carefully redrawn specifically for these art prints and come in a hand numbered limited edition of 12 prints per artwork.

The prints are Giclée prints made by Make-Ready in London. Giclée printing uses pigment inks and high quality papers that will faithfully reproduce the vivacity of these artworks. They are printed on the Somerset paper range; a 100% cotton, fully archival fine art paper. The dimensions are 400mm x 400mm.